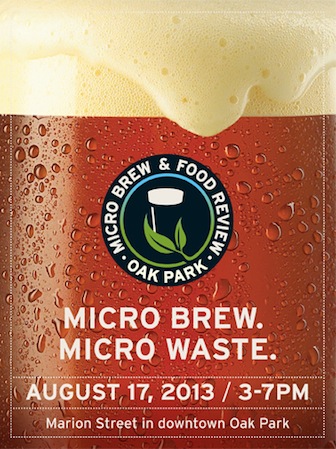 Co-produced by Seven Generations Ahead and the Illinois Craft Brewers Guild the Oak Park Micro Brew Review will feature tastings of over 120 craft beers from 60 Microbreweries across the Midwest.  But this is not just your average beer festival;  proceeds from the event help fund SGA's non-profit work to build healthy, environmentally sustainable communities in the Midwest.
Micro Brew.  Micro Waste.
Date: Aug 17, 2013 3:00 PM
Place:  On Marion Street between Lake Street to the north and Pleasant St. to the south.
Along with celebrating the microbrews of the most skilled craft brew masters in the region, attendees can also celebrate sustainable living while sampling select food tastings that incorporate organic food from local farmers.  And to make sure minimal event waste is sent to the landfill, this festival models Zero Waste best practices.
Ticket Options Include:
TASTER'S CHOICE TICKET (3pm - 7pm)
This 4-hour pass includes: --Main event access to craft beer tasting from 3pm – 7pm Early Bird Rate: $40 (SOLD OUT) Standard Pre-Event Rate:  $45 (while they last) At the Gate:  $50 (If available)
CRAFTER'S CHOICE TICKET (2pm - 7pm) This 5-hour pass includes: --Main event access to craft beer tasting from 3pm – 7pm --(1) hour pre-event access to ICBG ReplicAle project beer tasting (see description below) from 2pm – 3pm Early Bird Rate: $45 (SOLD OUT) Standard Pre-Event rate: $55 (while they last) At the Gate:  NOT AVAILABLE
MASTER'S CHOICE "VIP" TICKET (1pm - 7pm) This 6-hour pass includes: --Main event access to craft beer tasting from 3pm – 7pm --(1) hour pre-event access to ICBG ReplicAle project beer tasting (see description below) from 2pm – 3pm --(1) hour "VIP Reception" with specialty craft beer tastings not available any other time during the event paired with food tastings, 1pm – 2pm --Exclusive access to the VIP Tent for duration of the fest which will include hourly specialty food/beer pairings, 2pm – 7pm Early Bird Rate: $90/ticket (SOLD OUT) Standard Pre-Event rate: $100/ticket (while they last) At the Gate: NOT AVAILABLE